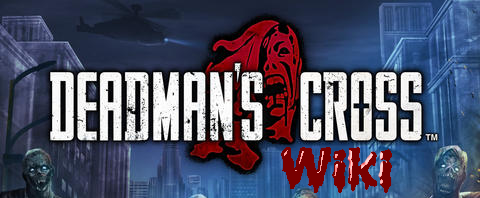 Important Notice
Edit
The servers for this game shut down permanently as of June 30, 2017. As a result, this game is no longer playable
Welcome to the Deadman's Cross Wiki
Edit
This wiki is about Deadman's Cross, the free-to-play mobile game made by Square Enix. It's a customizable card game coupled with a gallery shooter set in the midst of a Zombie Apocalypse.
Complete List of All Abilities
Useful Links
Edit
Important Information
Edit
How to edit a card
Edit
When editing a card there is many optional variables available to use which can effect how the card page is rendered. Please see below for an explanation!
Max Level = xx - (Optional. The maximum level of the card that you are adding/editing, in case it's different from the default of the rarity, such as the Silver Chick).
Average Only = Y - (Optional. This is used for cards such as Limited Deadmen - where the type available is only Average)
Limited = Virulent/Pestilent - (Optional. This is used for cards achievable through the Boneyard or through the Invite-a-Friend campaign. Should be used in conjunction with the Average Only variable.)
Job Target = Y - (Optional. This is used for cards on which you hunt on a job. These cards typically have a green name. See the Job Targets category for a complete list!)
Untradable = Y - (Optional. This is used for cards which cannot be traded, such as the Gold Chick.)
Please Note
Edit
This wiki is not a place for referral codes or setting up trades. Please look to one of the many community forums if you are interested in that!